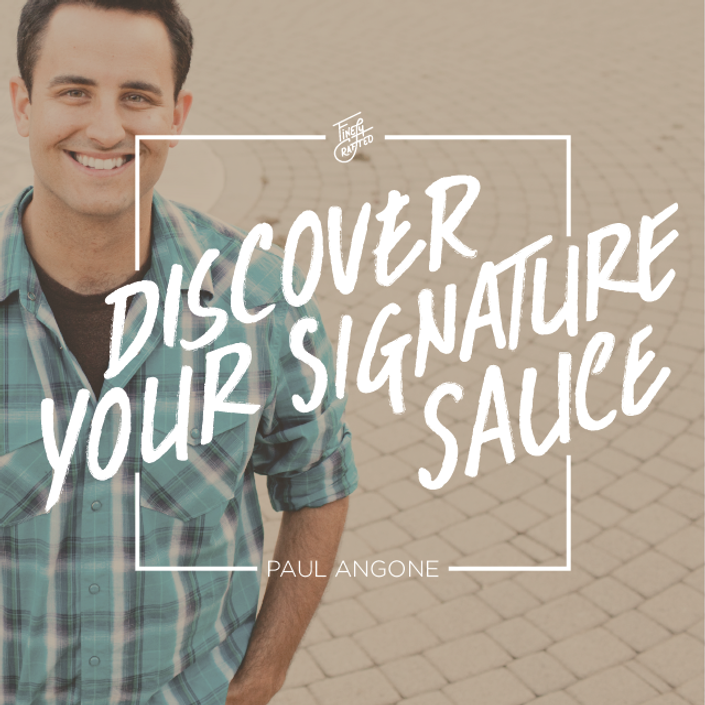 Find Your Signature Sauce
An online course and community created by best selling author Paul Angone that helps you find where your purpose, passion, and career collide.
Watch Promo
Enroll in Course
Why do some people live a successful and significant life?

While the rest live full of potential, but with no real purpose?
These are two questions I spent most of my twenties exploring.
I felt lost, frustrated, and worst of all, I felt stuck.
I had big dreams and goals, yet I was dying the slow death of cubicle life. I wanted to run ahead full-speed, yet I had no idea how to take that first step forward.
So for the last ten years I took that frustration on an epic journey of studying, writing, researching, and searching to find the answer to those two GIANT questions.
Now after these wild ten years, I feel like I have the answer to why and how those people live a life full of purpose — they learned how to own, hone, refine, and define (what I call) their Signature Sauce.
Your Signature Sauce is where your passion, purpose, and career collide.
Join us in the fight against living a ho-hum-life.
Let other people do whatever with their lives. Do something significant with yours.
Let's find your Signature Sauce!

Paul Angone
Your Instructor
In this course you'll learn how to...
Squash the fear and anxiety that's you keeping you stuck in place.
Fear keeps us stuck in a career, job or lifestyle we don't love. Fear of failing, fear of being judged by family or friends, and even the fear of success. This course is designed to help you combat that fear by helping you to develop a plan to move forward. Because everyone has a different route, I've pulled in other people who have been where you are now to help.
Create a roadmap for finding a career you are passionate about living every day
Inside of Signature Sauce I've created a 60 minute career assessment that will help you figure out exactly where you are right now in your work, and the steps you need to take to start doing work that pays you money and doesn't kill your soul.
Uncover the amazing flavor that you bring to this world that no one else can
I named this course "Signature Sauce"-- not because I'm Italian and constantly thinking of food, but because I believe in this idea that we all have something unique to bring into the world. Albert Einstein wrote, "Everybody is a genius. But if you judge a fish by its ability to climb a tree, it will live its whole life believing that it is stupid." I don't want you to live your life trying to fish your way up a tree.
Get clarity, vision, and actionable steps to start creating the life you're meant for
You won't leave this course without a plan that you can start applying as soon as you leave. If you take this course and at the end feel like you don't have a clear idea of what direction you are headed towards, I'll refund your money.


Featuring bonus interviews with:
Jeff Goins
Online entrepreneur and best-selling author
Sam Davidson
Leadership expert, social entrepreneur, CEO of Batch
Amena Brown
Spoken word poet, artist and entrepreneur
Jenny Foss
Career search expert, specializing in resume writing and LinkedIn optimization
Danny Rubin
Communication and networking expert, author of "Wait, How Do I Write This Email?"
Tyler Ward
Branding specialist, consultant, author of Marriage Re:Branded
Nathan Nienaber
CEO of Ghost Truck, former toilet paper salesman
Melissa Anzman
Career Launch Expert
"Like advice from an wiser, funnier, older brother... Paul's been there, done that, and wants to save you some pain and trouble."
Seth Godin, New York Times Best Selling Author
"Paul is an emerging voice for this generation. He understands the unique struggle of those going through the rocky, ambiguous, thrilling decade of their twenties and has a gift for delivering rock-solid truth packaged in laugh-out-loud humor."
Christine Hassler, Author of 20 Something Manifesto, Speaker, & Life Coach
"The gigantic question, 'Why am I here?' is written on everyone's heart. Fortunately for twenty-somethings, [Paul] will help answer the question and push them forward on a path of significance that will change their lives and the world around them."
Ken Coleman, Author of One Question & Host of The Dave Ramsey Show Video Channel
What else is included in Signature Sauce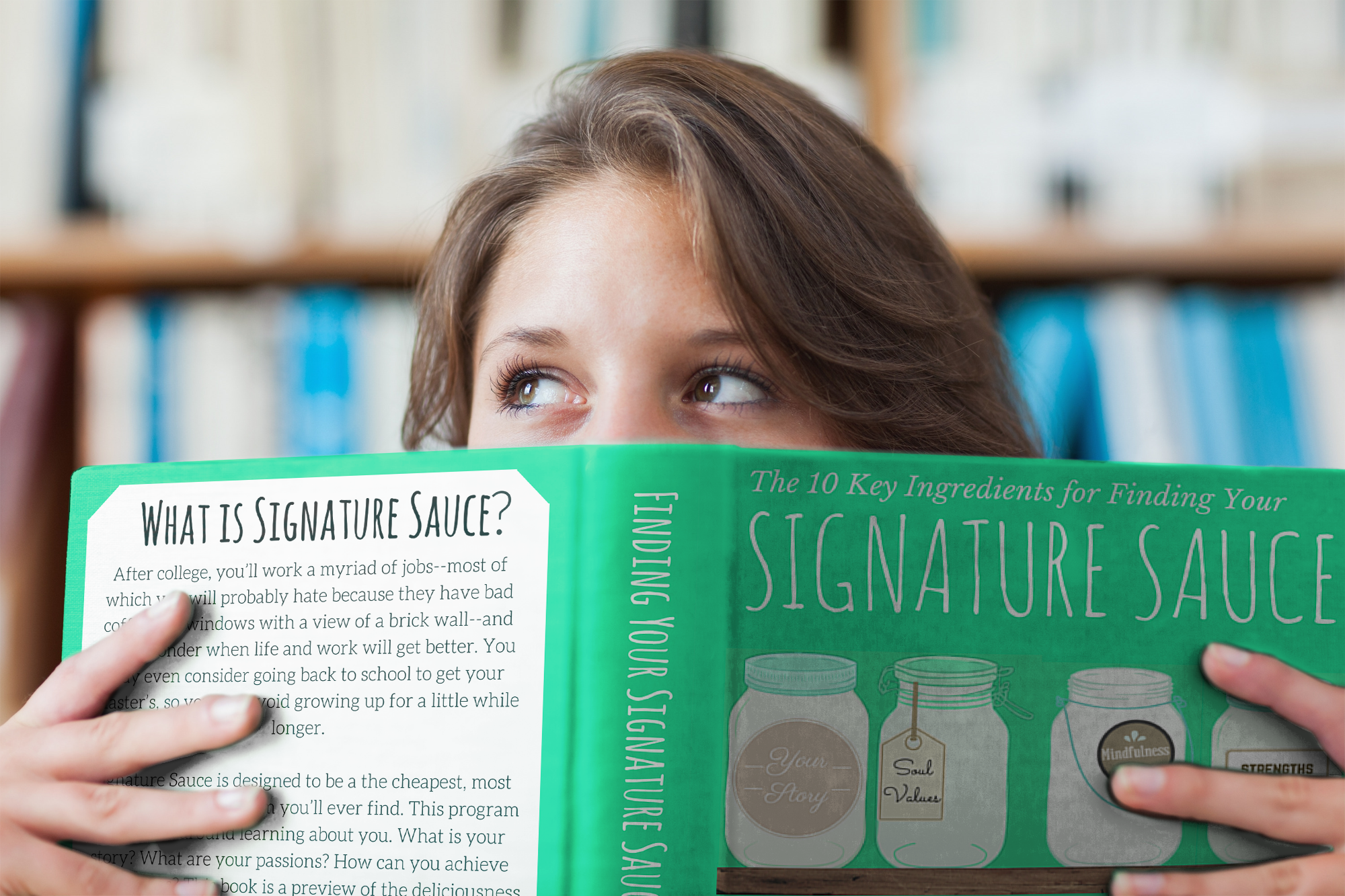 Signature Sauce workbook
A workbook filled with challenging questions that will help you to create an actionable plan to find the work you love.
Coaching calls with Paul
Advice, encouragement, the answer to all of life's questions (or at least some of them). Inside of Signature Sauce you'll have the option to sign up for either group coaching calls (weekly) or one-on-one coaching calls with me (this is only for master Signature Sauce members).
Access to an exclusive community of Signature Sauce members
You're not in this alone. Everyone struggles. In Signature Sauce, we struggle together.

20+ hours of high quality video content
In each video, we'll tackle one key ingredient for honing and refining the unique flavor you bring to the world. Let's get saucy.

6+ Hours of video content with Influencers
Exclusive interviews with successful authors, entrepreneurs, and job experts who share how finding their signature sauce has lead to their success.

Guided Video Series: Implementing Your Signature Sauce
An in depth step-by-step video series I created to help you answer the questions in the Signature Sauce workbook I created.

What Signature Sauce students are saying...
"Signature Sauce has been HUGE in my journey to find what I was made to do. The things I have discovered and the knowledge I have gained about myself have been game-changers. Going into the program, I was completely in the dark about what to do with my life. Now, I not only have clear goals and dreams with immediate action steps, but I also have the courage and intentionality to change the trajectory of my life."
- Luke, 21 years old
"The Signature Sauce course has pushed me to step outside of the cubicle and step forward into the life I want to create. Paul's wisdom and enthusiasm transcends generations."
-Angie, 49 years old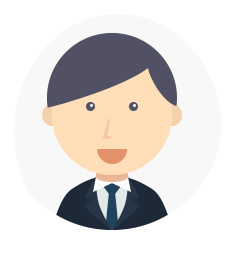 "As a result from Signature Sauce, I discovered that my passions were in the area of personal development (EI training, personal coaching, or certain branches in HR) and relationship building (team coaching, mediation...). I then used Paul's advice on "relationshipping" and voilà, now I'm exploring this fascinating business of helping people find the job that suits them best at a Talent Management company in Barcelona!"
– Fernando, 31 years old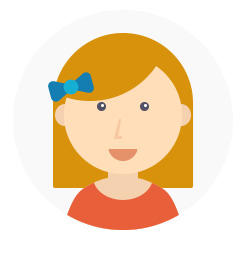 "On the surface the Signature Sauce program may sound like other courses out there, but it is far superior. The individual ingredients and the order in which they're presented/completed made me think about my life in a different way and I was able to connect the dots between seemingly unrelated topics. Paul communicates clearly and offers concrete, actionable steps when you have no idea where to begin. To top it all off, his enthusiasm is contagious and he offers the support needed to step outside your comfort zone. I can't thank Paul enough for creating this course!"
– Keri, 28 years old
"The Signature Sauce program is one of those things where it brings a step to step process to answer questions that perhaps you never knew you had about yourself. I witnessed many AHA moments throughout the course as Paul's approach helped me break down and guided me towards answering questions about myself that I never knew I had". This clarity has helped me identify things I want to work on for myself and work towards the age-old questions many of us millennial have "What is my purpose in life?"
-Joshua, 22 years old
"I was absolutely mind blown by the ingredients I was able to uncover. During this program I was able to discover an existing mentor (for project management) and gain a new mentor (for marketing) through the section on "relationshipping"! With the help of mentors and this program, I was able to create action steps for the next 6 months. Thank you so much for this program."
- Kathy, 25 years old
How much does Signature Sauce Cost?

Frequently Asked Questions
Who is this course for?
This course is for anyone who feels like they are stuck and need help figuring out "what's next?". You could be working in a corporate company or you could be fresh out of college. The content I put into this course will help you in either of those circumstances. Signature Sauce is for people who want a catalyst for achieving their career goals and want to be intentional in pursuing a meaningful career and life.
Why did I make this course?
For a long time now I've been getting emails, asking me the same few questions-- "I just feel stuck. How do I get out of this?" "I have no idea where to go from here, can you help?" "How do I even get started on a path of finding work I love if I'm not even sure where I am?"... These are questions I am constantly fielding in my inbox and at speaking engagements. I created this course as a resource and community so that I can help more people answer some of those difficult questions in a more meaningful and intentional way.
I didn't understand anything I just read. Tell me again what this course is?
Signature Sauce is a program I created to help you find the intersection between your passion and profit. It's difficult to know exactly who you are and what you should be doing (and everyone has an opinion about what you should be doing, don't they?). Signature Sauce is built around 10 key ingredients that will help you better understand who you are, help you build a plan, and intentionally create the future you want. PS – For more on those 10 key ingredients, I wrote an ebook for you to explain each one. You can download your free copy of "The 10 Key Ingredients for Finding Your Signature Sauce" by joining the course waitlist.
What if I am unhappy with the course?
We offer no-questions-asked refunds to all customers within 30 days of your purchase. If you are not satisfied with our product, then simply send us an email and we will refund your purchase right away. Our goal has and will always be to create a happy, thriving community.
How much time will this course take?
Signature Sauce is a five-week course with two weekly lessons. You can binge through the entire course like a caffeine-rushed, Netflix-addicted college student-- or, you could spend a couple hours per week working through the lessons. Each lesson will include a video teaching from me, written takeaways, a guided implementation video series where I walk through each lesson, and workbook questions to help you hone your Signature Sauce. Once you join the course, you have lifetime access, so you're welcome to access the content on any day, at any time, as often as you'd like.