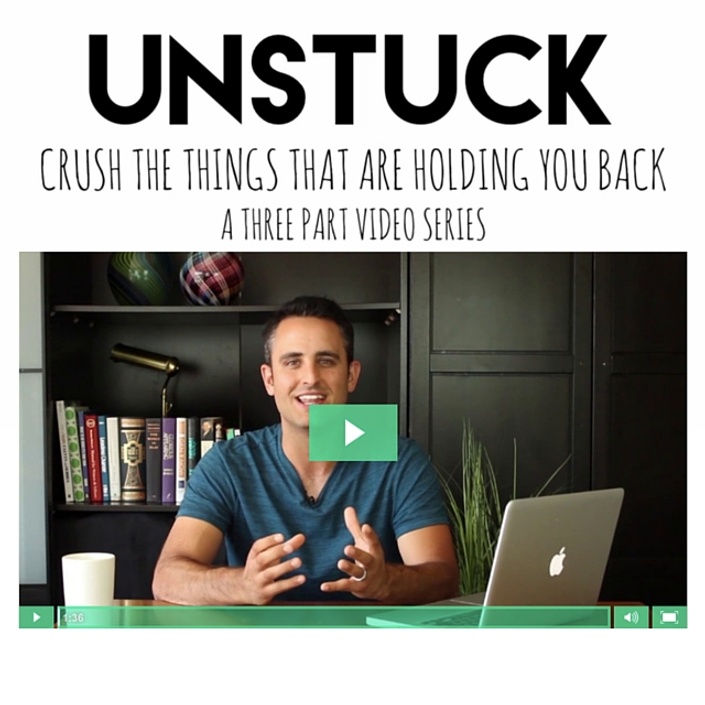 UnStuck
3-part video course to getting unstuck and finding work you love. With best-selling author and national speaker Paul Angone
Welcome to UnStuck -- a free 3-part video course from best-selling author and national speaker Paul Angone. This Get UnStuck course is just a taste of what you will find in the full Finding Your Signature Sauce online course and community.

Sometimes we get stuck in jobs or relationships that are sucking the life out of everything we do and love. This is how I felt for most of my twenties. I had all these big hopes and dreams inside of me, yet I felt stuck in my cubicle with nothing to look forward to but office birthday cake (and getting off work!).
That is until I started learning the secrets and strategies to getting unstuck, which helped propel me over the last 10+ years to becoming a best-selling author, national speaker, media go-to, the creator of AllGroanUp.com that has been read by millions of people in 190 countries, and an all-around more fulfilled, engaged person who fits better in his jeans and showers more frequently (my wife really appreciates the last two).

I want to help you get unstuck, which is why I've created this 3-part video course called UnStuck: How to Crush the Things That Are Holding You Back, which is currently free.
In this video course I share:
The most proven and effective secret to moving forward and making progress (and it's probably not what you think)
The 6 biggest lies we believe that keep us stuck
How to transform failures into your great successes
The 10 most important questions you need to ask to live a purposeful, significant, and profitable life.
The power of understanding and leveraging the "Pivotal Plot Points" in your life (especially the ones that didn't go as planned)
The secret to getting people to help you without even having to ask.
Plus, when you enroll for his free course you'll also get access to my ebook The 10 Key Ingredients to Finding Your Signature Sauce.
Enroll now in this amazing 3-part video course to help you get unstuck and then be on the look out for more details on the full Find Your Signature Sauce course.
I usually charge $79 to attend one of my workshops to hear the information you'll get in this 3-part course, but I'm giving it to you right now for free.
Unwedge yourself from stuckness. Move forward. Live on purpose with purpose.
Or stay stuck. Please, don't stay stuck.

Let's do this!
Paul Angone

Your Instructor
Course Curriculum
First Section
Available in days
days after you enroll
Frequently Asked Questions
Does this course cost anything?
Nope. It's completely free. If you find value in what I talk about in this course, you're welcome to sign up for my upcoming course Signature Sauce where I go even deeper into how you can get unstuck... but it's by no means a requirement (and no, you don't have to put in a credit card).
Is there a money back guarantee?
It's free. So...yes you can have every penny you don't pay for this back.
How do I watch the videos?
Get Unstuck is a one week, 3-part video series. Once you sign up you'll receive a custom login to access the videos. The course is published in a "drip format", which means I'll be releasing the videos 1 by 1 until they are all 3 present inside of this course. Once you sign up below you'll have immediate access to the video lessons inside that have been released.
How will I be notified when the new videos are released?
I will send you an email! Bam!